The RUMOUR HAS IT THAT THIS IS THE COVER SHOT!!!
I snatched this photo from Heather Clawson's blog Habitually Chic this morning. If you are not already devouring her daily's, you should be!  The Queen of the New York elite interior design blog world, Heather is the go to blogger for all things neauveau and hip . (Read she gets to go to the cool openings and partys.) Check her out at http://habituallychic.blogspot.com
 Rumors have been swirling on the new issue for months and I am so excited that they were all true!! When Domino Magazine closed up shop in 2009, there was a black cloud of gloom over the desks of interior designers all over the world.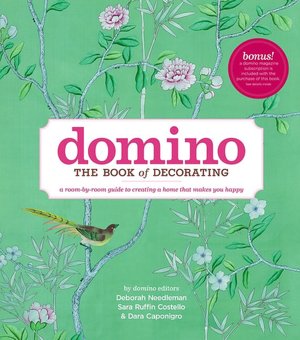 The only light left behind was the design bible book by the ever cool Domino peeps. I am sure I have read the book at least 100 times and I am not exaggerating in the least. If you don't already own it, click on the book to purchase from Barnes and Noble and get a sneak peek into the world of design!
I will be the one sleeping in front of Paper Skyscraper, waiting for the delivery.
I can't wait can you!!!!
Cheers,
Tay